Exciting Developments From The Canton Fair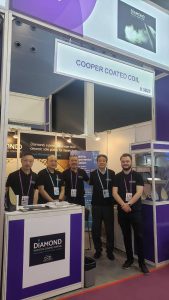 CCC exhibited once again at the Canton Fair in April 2019. This followed the successful launch in October 2018 of DIAMOND, a new non-stick ceramic coating system specifically developed for use as a sole plate for domestic steam & dry irons.
Based in the International Pavilion and supported by colleagues from Nishitani Asia and Nishitani Japan, the show provided an opportunity to meet existing customers and to make contact with potential new ones. Of particular interest is a new development project in India that is now being worked on.
The DIAMOND system has always had strong abrasion resistance that has been utilised by OEM customers such as Hamilton Beach Brands. The Canton Fair provided the ideal platform to showcase recent enhancements in the glide properties giving further practical and marketable advantages.
Like to receive samples or know more? Please contact us at diamond-isp@coopercoated.co.uk or tel: +44 1902 867900